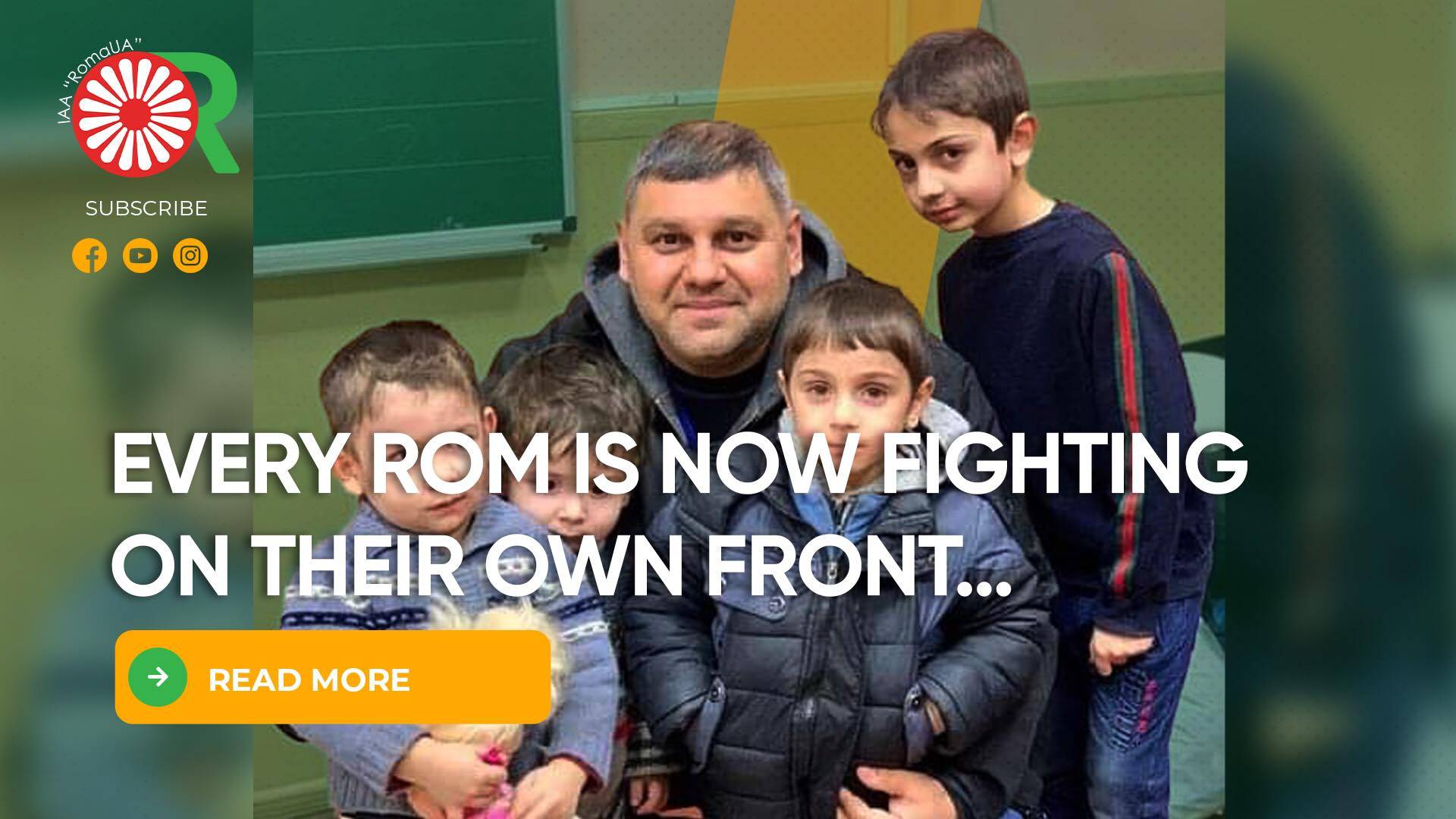 18:21
Every Rom is now fighting on their own front ...
Immigrants from the central, southern and eastern parts of Ukraine are flocking en masse to Transcarpathia to save their lives from bombings and shelling by Russian aggressors. For some, Transcarpathia is an intermediate station on the way to Hungary or Slovakia. For others, it becomes a temporary refuge until the day of our victory in the war. Among the migrants are often Roma. We talked to Uzhhorod City Council deputy and public activist Myroslav Horvat about the current situation with Roma migrants in Uzhhorod.
According to Myroslav Horvat, the Zakarpattia region has become a refuge for more than 600 Roma from different cities of Ukraine, most of them from Kharkiv, as well as from Kyiv and Kyiv region, Odesa, Chernihiv.
In the photo: Myroslav Horvat with young Roma immigrants from Kharkiv
At present, Uzhhorod cannot provide all the migrants with beds and food. There are more people than we can afford. Speaking of Roma families, they are less likely to cross the border, because families do not want to separate. Women stay in Ukraine with men, so we try to find shelter for them here. However, there are families who have begun to think about returning home in a few days. The uncertainty demotivates them. - says Myroslav Horvat.
In the last week (March 5-12), more than one thousand Roma crossed the border: most of them are now in Germany, France and Belgium. Speaking of Transcarpathia, Roma mostly live in shelters established in Uzhhorod schools (gymnasiums) № 13 and № 14 - these schools have always been considered "Roma", and now they are also "Roma" shelters. It is worth noting that Roma from Radvanka, Shakhta, and Telman are also very active in accepting migrants into their homes. Roma religious communities also play an important role. In particular, several shelters have been established on the basis of Roma churches, and the people who have settled there are regularly provided with food, clothing and humanitarian aid.
No one was prepared for the events that Ukraine had to face since the night of February 24. Today everyone is fighting on their front! Among the Roma of Transcarpathia, many people joined the Armed Forces or the Territorial Defense. More than a dozen Roma from Svalyava came to the military enlistment office and expressed a desire to defend our country, and today they are defending Kyiv as part of the Armed Forces of Ukraine. There were many Roma volunteers from every town and village in Transcarpathia. In the struggle for our country, we are united, regardless of nationality, religion, we all want to keep our country whole and independent.
In the photo: Roma soldier
Myroslav Horvat: "We are grateful to the European Roma who help the Roma from Ukraine every day, are involved in supporting the Ukrainian army, and who support Ukraine in this struggle. Many Roma joined in building barricades and fortifications and teenagers helped to put sand in sacks and build such walls on passes. We help the army, patrol police, everyone joins as much as possible. Many Roma join humanitarian initiatives. Many Roma leaders are involved in coordinating the resettlement of Roma migrants in Uzhhorod. We were also the initiators of the action from the field kitchen, during which we treated the settlers with real Transcarpathian bograch "straight from the fire".