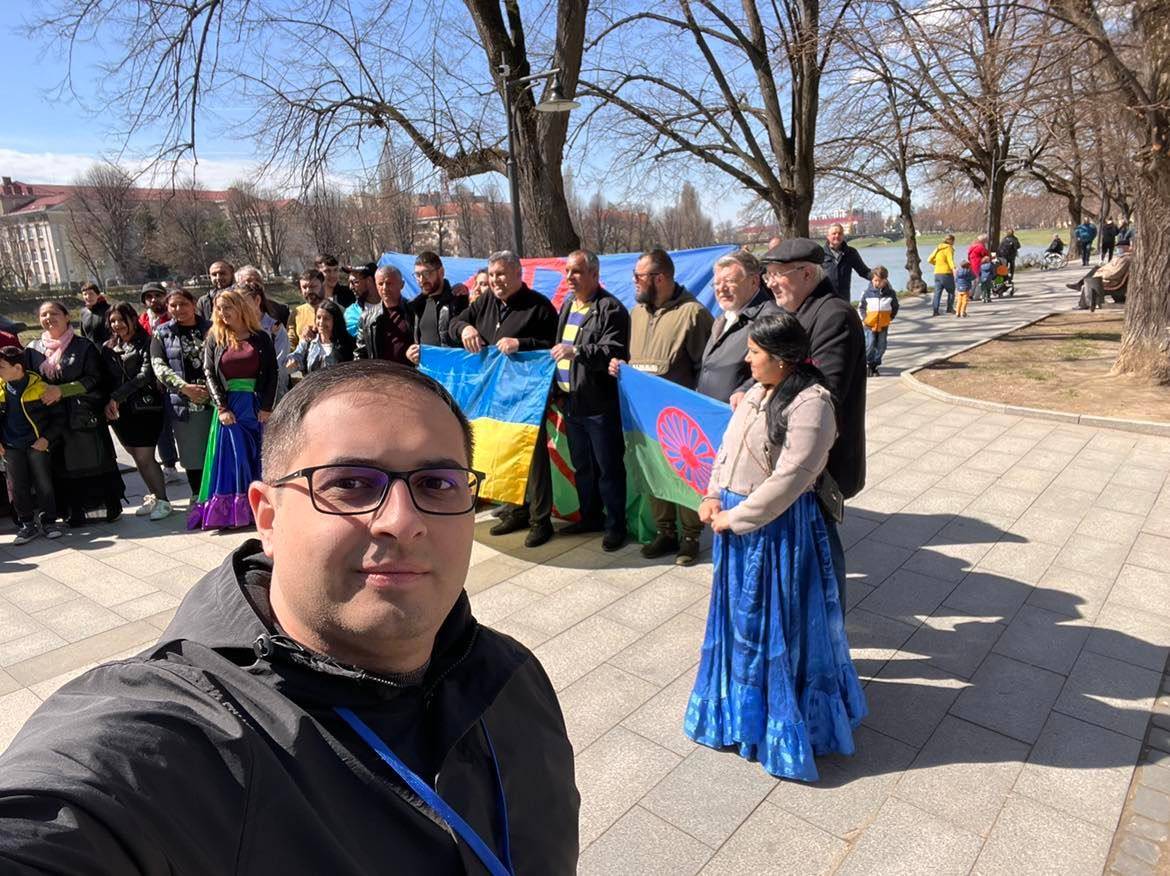 17:12
Roma are a part of Ukraine and its history
For your attention, an interview of a Roma public figure from the Kherson Region, Janush Panchenko, with his friend and colleague Viktor Chovka, a journalist and public figure from Uzhhorod. This is a conversation about the war:
How did you live before the war?
I worked on local television in Uzhhorod, on "Ungvar Channel 21", I was the author of the Roma program "Romano Lav" (a Romani word), currently it is idle, but soon we will be back on the air. Also, I engaged in public work, I am the head of the public association "Hidnist" ("Dignity"), and generally we had a quiet life, but everything turned upside down with the beginning of the Russian invasion. Even looking at the fact that we live "on the edge" of the war and, thank God, nothing reaches us and does not explode.
How did the Roma react in the first days of the Russian invasion of Ukraine?
There was panic and complete chaos in every family. The Transcarpathian region is located close to the borders of Slovakia and Hungary, I think 20 % of Uzhhorod Roma left for Europe in the first days of the war. But soon half of them returned home.
A month before the start of the war, you visited me in Kakhovka (Kherson region) and even then you talked a lot about a potential invasion. Where did such premonitions come from?
I grew up in Transcarpathia in the south of Ukraine and had never even been there, so after coming to Kakhovka I felt fear because of your territorial proximity to Russia, besides, the high probability of an invasion was being talked about through all possible channels. When I arrived in your city, I only then realized that it is only 100 km from Kakhovka to the occupied Crimea. When I was driving, I did not know this, but if I had known, I might not have come at all (laughs). We joked then that in case of occupation, I would stay to live with you. Because then what to do, how to return home? I often mentioned my arrival in Kakhovka after the start of the war.
What was the first day of the war like for you?
Many joke that I foresaw the beginning of the war, the day before the invasion, on February 23, I went abroad to write several journalistic articles. And on the night of February 23 to 24, at 5 in the morning, my father called me and said "the war has begun". I didn't want to believe it, but I went to the Internet and immediately saw videos of explosions and news about Russia's invasion of Ukraine. At the same time, I called my wife to come to me in Slovakia. But a month later, my family and I returned to Ukraine.
Why did you decide to return?
To be honest, we were sure that the invaders would not reach Western Ukraine, and we really wanted to go home, regardless of the war. We also intended to help the displaced people and our Roma from Uzhhorod, who now find themselves in an even more difficult situation. We started providing humanitarian aid: food, medicine, clothes to both Roma and non-Roma, for which we are grateful to the German "EVZ" Foundation. Our team also paid great attention to information coverage of events in Ukraine related to the state of Roma communities. We recorded war stories from the mouths of eyewitnesses, covered the topic of Roma service in the Armed Forces and the work of volunteers. We are actually doing this work now.
Many people in Ukraine migrated to Transcarpathia, especially from the hot spots, tell us how the work with IDPs was organized?
Many people arrived on evacuation trains, buses, cars, and the biggest problem was accommodation. In most cases, local Roma religious communities helped Roma immigrants – they settled them in churches and in their own homes.
Undoubtedly, the local authorities of Uzhhorod helped the Roma, but some Roma complained about the prejudiced attitude towards them: they said that they were not allowed in the carriages, kicked out of the stations and didn't even give water to the children, that they didn't want to rent housing to them, some complained in denial of asylum for displaced persons and denial of humanitarian aid and meals. Faced with complaints when Roma were discriminated against when crossing the border with the EU. And there are cases when Roma from Poland returned to Uzhhorod because of bad treatment towards them. Another family from Uzhhorod said that in the Czech Republic there was a segregation division of immigrants into Roma and non-Roma during resettlement. Here, Roma with small children were placed in a local prison, there are even some photos...