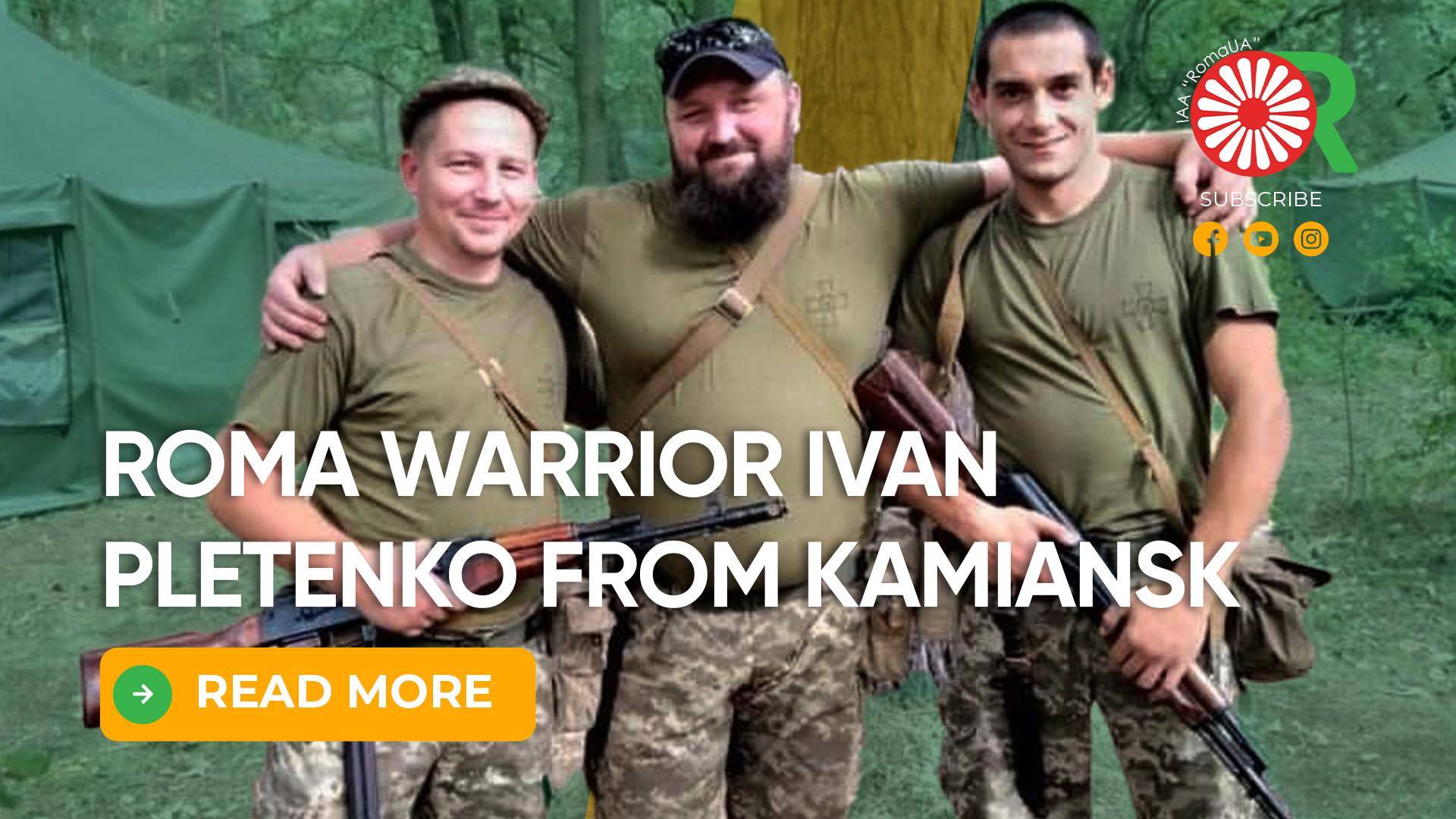 19:23
Roma warrior Ivan Pletenko from Kamiansk
Twenty-seven-year-old Ivan Pletenko told us his life story and how he went to defend Ukraine.
Our hero is from the town of Kamianske, Dnipropetrovsk region. Ivan's childhood was the simplest – "like everyone else's", says the man. He graduated from school, then entered a secondary specialized school and received the specialty "locksmith-auto mechanic". Before the war, Ivan worked as a mechanic, repairing cars. But his main work was at the Dnipro plant. He is married, together with his wife they raise a small, almost three-year-old daughter, whose name is Milana.
The future soldier learned about the war from the news. Ivan personally, fortunately, did not hear the explosions at the beginning, but later he became convinced of everything when the war was already announced: "The first thought that came to me was the thought that I wanted to go at the same moment and drive all these inhumans out of our land. Time passed, so it happened. Also, first of all, I was very worried about my family in my thoughts. I was very afraid for them. Later, my relatives went abroad, and my family, especially my wife and my daughter, stayed here at home to support me".
When asked why Ivan voluntarily decided to join the Armed Forces, he answered: "I am a citizen of my country, which means I must repay my debt to my country and family. Protecting them is my duty to the country and family". Ivan went to the local Kamianske (formerly Dniprodzerzhynsk) Military Commissariat. But at first they didn't take him as a volunteer: they refused and said "we don't need you now, we'll call you back". But our hero did not stop there, he still persistently, almost every day, came and knocked on all the doors. That's when they took him.
The family reacted very sadly, they said that Ivan was crazy, and asked "Why?", were very worried about him and did not want to send him to the front. Ivan says: "I explained everything to my daughter properly – I said that I went to Kyiv for work on a business trip. I didn't tell her where I really went and why, because she is very young, she may not understand some things, and I didn't want to injure her. For the entire time of my service, I communicate with her every day so that she does not get sad and bored".
The soldier refused to tell about where Ivan had already been and what he was doing at the front, saying: "I'm sorry, but I signed a military document on the non-disclosure of military information. When I first got to the front, I wasn't afraid, I wasn't sad, I just got a lot of adrenaline. I realized that I have to get serious here, because now someone's life depends on me. And as for fear... I understood it even when I came to the Military Commissariat. That's why I didn't give in to this feeling".
Currently, the soldier is in hospital on treatment because of the fact that he has a concussion. And it happened when the "120-mm" mortar exploded next to Ivan. Doctors say that he "was born in a shirt" [is what they say about people who have incredible luck – translator's remark] and everything will be fine. Ivan is also asking for help from volunteers, he says that what is needed is not things, not food, but equipment – drones and thermal imagers.
Most of all, Ivan remembered the day when he returned home from the service. Although a man is not often at home, he is filled with emotions when he is near his family. Ivan's thoughts are always with his colleagues in the service: "Even when I'm on duty, I often think about my family, about my child, about my wife. If it happens that I will not be, how will they be without me? I understand how painful it would be for them".
Military service changed not only Ivan's place of residence and his usual way of life, but also his outlook on life: "Now I have become very serious, I have goals, I do everything confidently, I look ahead, I listen to people older in age and rank. The skill of brotherhood appeared. And before the war, I was a frivolous guy who didn't think about anything. I want the war to end as soon as possible, I am sure that we will win. I will do everything possible so that after returning home, my whole life will only make my loved ones happy and see how not only my family is happy, but also all of Ukraine. I also want to wish my brothers good health and patience. This is exactly what is needed in our work. And I wish all the other soldiers to return home as soon as possible".
Author: Zina Prokopenko, EqualNet network
Translation: Anastasiia Tambovtseva, EqualNet network